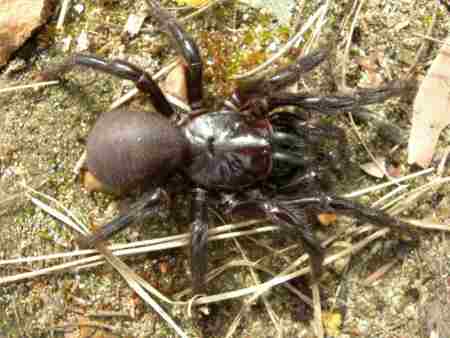 Habitat
They are mostly terrestrial spiders, which build typical silk-lined tubular burrow retreats, with a collapsed "tunnel" or open "funnel" entrance from which irregular trip lines radiate out over the ground. Exceptions, which lack trip lines but may have trapdoors, are those Hadronyche from South Australia, like Hadronyche adelaidensis, Hadronyche eyrei and Hadronyche flindersi.
The silk entrance tube may be split into 2 openings, in a Y or T form. In the case of Hadronyche formidabilis the burrow may be in the hollow of a tree trunk or limb, many meters above ground level.
Adult male spiders leave the burrow permanently to seek a mate. Such wandering male spiders may enter houses, sometimes even find their way into clothing, and thus account for many bites. Most funnel-web spiders are ground or log dwellers but at least two are tree dwellers (Hadronyche formidabilis and Hadronyche cerberea: respectively the Northern and Southern tree funnel web spiders).
highlands. Atrax robustus, the Sydney funnelweb spider, has a distribution centering on Sydney, extending north to the Hunter River, south to Shoalhaven River, and narrowing westwards as far as Lithgow.
Hadronyche has a considerably wider distribution; being the coastal areas and highland forest regions from Tasmania to Queensland.

Genus Atrax O.P.-Cambridge, 1877
Atrax robustus O.P.-Cambridge, 1877 ; New South Wales

Genus Hadronyche L.Koch, 1873
Hadronyche adelaidensis Gray, 1984; South Australia
Hadronyche anzses Raven, 2000; Queensland
Hadronyche cerberea L.Koch, 1873 ; New South Wales
Hadronyche eyrei Gray, 1984; South Australia
Hadronyche flindersi Gray, 1984; South Australia
Hadronyche formidabilis Rainbow, 1914; Queensland, New South Wales
Hadronyche hirsuta Rainbow, 1920; New Guinea
Hadronyche infensa Hickman, 1964; Queensland, New South Wales
Hadronyche insularis Rainbow, 1913; Solomon Is.
Hadronyche modesta Simon, 1891; Victoria
Hadronyche pulvinator Hickman, 1927; Tasmania
Hadronyche valida Rainbow&Pulleine, 1918; Queensland,
New South Wales
Hadronyche venenata Hickman, 1927; Tasmania
Hadronyche versuta Rainbow, 1914; New South Wales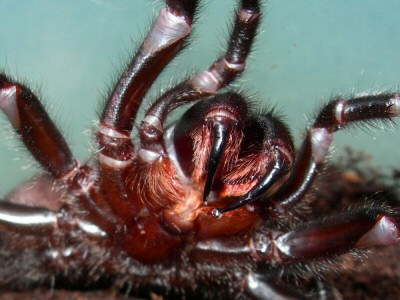 The Australian Funnel-web spiders (family Hexathelidae, Simon, 1892) are probably the most dangerous spiders we can encounter.
The most famous spider is the Sydney funnel web (Atrax robustus).
Chances to be bitten are small. There are only two cases of envenomation annually in the last 10 years.
Funnel-web spiders belong to the family Hexathelidae and two (Atrax and Hadronyche) of the eleven genera are considered dangerous.

Of the 40 described species in this family, the six red printed species caused severe envenomation.