Orb stretch spiders
Family tetragnathidae, genus Meta and Metellina
---
Genus Metelinna
The spiders belonging to this family were formerly put in the family of the Argiopidae, genus Meta. Then they became a family of their own, the Metidae, but not for very long.
Nowadays they belong to the family Tetragnathidae.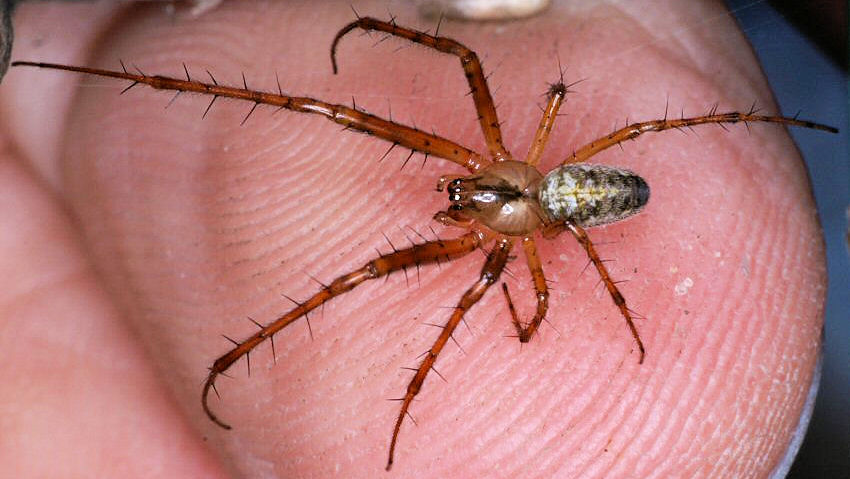 There are 5 species of this genus Metellina found in Europe.
.Metellina segmentata
.Metellina segmentata with a fly
Metellina segmentata / mengei
Metellina segmentata


Metellina mengei
Metellina segmentata and Metellina mengei are the two most abundant spiders and are about 4-8 mm long. They are easily recognized by the hole in the web and the broad band on their belly.
Their webs always hang between horizontal and vertical. They can easily be mistaken for the Tetragnatha.

The difference between the two Metellina species is very difficult to see. With Metellina segmentata the band does not extend the epigyne (genital openings of the female) in contrast to the Metellina mengei where the band extends the epigyne. Both species have a variable marking of their abdomen.

Metellina segmentata male and female
Metellina mengei
Metellina mengei male
Metellina mengei
Metellina mengei
---
Genus Meta

From this genus Meta three species occur in our regions.

Meta merianae, Meta menardi and Meta bourneti (not shown) are larger, 10 - 16 mm, brownish spiders and prefer complete dark habitats. Therefor they occur in cellars and caves.

Meta merianae vrouw
Meta merianae male
Meta merianae male
Meta merianae female
Meta menardi by Ingmar Tönnby 58º 39" N, 16º 32" E, in south east Sweden in cave

Meta menardi by Pascal Van Acker Fort Dave, Namen

On the right the cocoon of Meta menardi.
This spider likes to lives in total darkness like caves and the middle of long railway tunnels

---
Ed Nieuwenhuys, 7 August 2011
3 march 2007 , 5 november 2006, September 30, 2001