Family Miturgidae, Prowling or Racing Stripe Spiders
Twenty-nine genera with 140 species were described world-wide in 2021. In Australia one can find 13 genera with 48 species.

Many Miturgidae spiders are nocturnal, they live on the ground and are cryptic what means; tending to conceal or camouflage.
Most spiders of this family hide and guard their eggs in a sac-like retreat under rock or other debris.
| | |
| --- | --- |
| | |
| Eye pattern frontal view | Four spinners, two spinner with two segment the other two spinner conical |
---
Genus Argoctenus
Ten species are represented in Australia, one in New-Zealand and one in New Guinea.
The spider resembles the Pardosa genus of the family Lycosidae.
The striking difference is the narrowed carapace (head) of this spider. Also the arrangement of the eyes is a little different.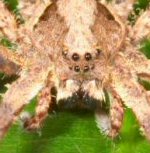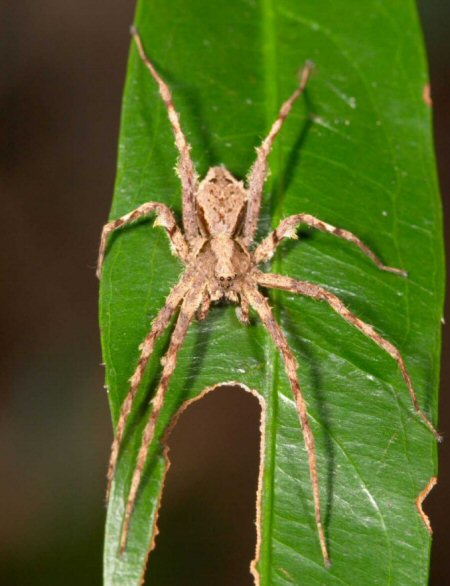 Argoctenus sp. ZZ287
---
Genus Miturga
The genus Miturga is the largest genus of this family in Australia with 17 species described in 2021.
Some species can have a length of 15 to 20 mm and can be called large.They are coloured brown with black and they resemble Lycosids, wolf spiders, but their eye-setting is different.
Miturga lineata is mostly brown ang gray with a band pattern along the spider. The male are 12-18 mm long and the females 15-18 mm. The spider occurs in WA, SA, NSW, Vic and Tas.
Miturga lineata

Miturga lineata in hiding place
Miturga lineata ?
Miturga lineata ?
Miturga lineata juvenile (Photo Robert Whyte)
Miturga ZZ013
Miturga ZZ013
Miturga ZZ344 by Jurgen Otto
Miturga ZZ344 by Jurgen Otto
Miturga ZZ345
Miturga ZZ345
Miturga ZZ346
Miturga ZZ346
Genus Mituliodon (was Uliodon)
A fast running spider that resembles a Miturga lineata (see above) spider.
Males are 11 mm and females 15 mm in length
Mituliodon tarantulinus (Photo Robert Whyte)
Mituliodon tarantulinus (Photo Robert Whyte)
Mituliodon tarantulinus (Photo Robert Whyte)
---
Genus Thasyraea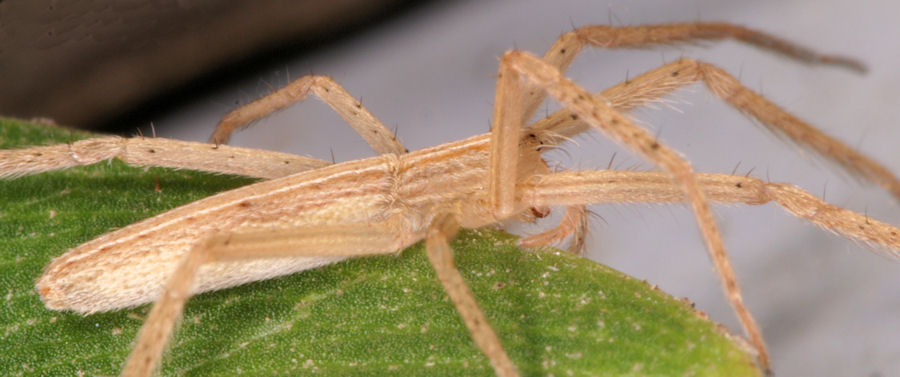 Thasyraea lepida
Two species in this genus. Thasyraea ornata and Thasyraea lepida.
They resemble the European Tibellus oblongus, a small huntsman.
To complicated things, many guides show this spider as Tibellus tenellus which has a more squared off head, and smaller eyes, wider apart.

But the hairs combed in a point between the front eyes are characteristic for Thasyraea


Thasyraea ornata (Photo Robert Whyte)
Female Thasyraea lepida
Female Thasyraea lepida
---
Ed Nieuwenhuys, 13 September 2021
18 nov 2017, 8 November 2016 , 26 February 2011 , January 4, 2009, 12 December 2006