Nederlandse versie
This European spider site contains over 1500 pictures of 378 spiders in 176 genera commonly found in NW-Europe, especially in the area between the Netherlands, Germany and the south of France.
There is a thumbnail page and a Spider location chart for spider identification or a quick overview of all the spiders posted on these pages.
Of many photographed spiders, there is a short description about their habitat, size and other interesting facts to identify the spider.
Here is an Overview of spider know how.
Apart from the European spiders I have also posted more than 1200 pictures of Australian spiders.

Over eighty pages keep 500,000 visitors busy every year. Most pages are translated in Dutch, Polish and some in Esperanto.
Many people think spiders are dangerous creatures that should be wiped away with a cloth, sucked up in the vacuum cleaner or smashed with a newspaper. That is not wise because spiders play a very important role in our Eco-system. They catch many annoying and harmful insects, are not destructive and are therefore useful creatures.
As you will see on these pages, many of the spiders are beautifully colored, and therefore very pleasant and wonderful to look at. Since most spiders are very small, you need a magnifying glass or a camera to study them or to reveal their beauty.
I receive many questions about poisonous/venomous spiders. Most spiders use venom to kill their prey. Spider venom is almost always harmless to humans. However, there are a few exceptions. In Europe there is one spider, called "Black widow", whose effects of the bite may hurt. The stories about her deadly venom are exaggerated. She lives in the southern parts of Europe.
Recent, controlled, studies show that the necrotic or neurotoxic effects of spider bites are often mild and of no medical importance.
Severe necroses is never caused by a spider bite.
Only the Australian funnel back spiders are to be avoided, but with only two registered bites a year, not to worry about.
More about venomous spider bites in this review about the toxity of Tegenaria (hobo), Dysdera, Cheiracanthium (yellow-sac), Lampona, Missulena (mouse), Loxosceles (brown recluse), red-back (black widow), Atrax robustus (Sydney funnel web) and Hadrychone.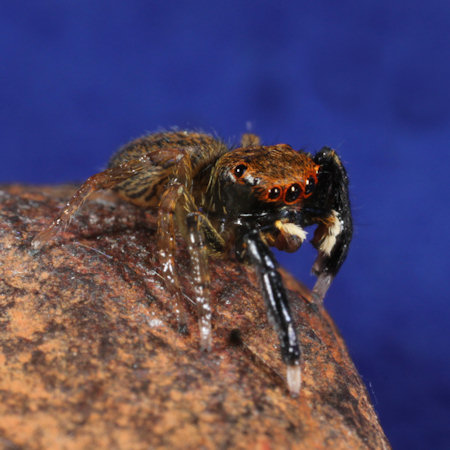 Male jumping spider Euophrys frontalis.