BLE serial UART apps for IOS and Android
<-- Home
CC2541 and similar chipsets are made by Texas instruments.
With this chipset many modules on the market with names like HM-10, HM-16, JDY-23 and BT-05
nRF chipsets are produced by Nordic. You find them in microcontrollers like the Arduino and Raspberry.

Four serial terminal apps are available for IOS.
Two Tiny apps with only a serial terminal and two priced apps with more features.

The Pro app contains both the CC254x and nRF protocols.

Serial Bluetooth Terminal van Kai Morich works fine as terminal for Android.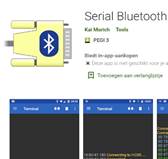 Source code
How to use the app in Arduino or ESP32

(2022)